The origins of the Militor began in Cleveland around 1910 when N.R. Sinclair developed a vehicle, the called a Militaire, for the U.S. Military. Although the vehicle resembled conventional motorcycles, the prototype featured several unusual characteristics. Most noticeable were the steering wheel in lieu of handlebars, and the wooden artillery wheels with hub-center steering instead of the usual spoked rims.
In 1913, the steering wheel was dropped and several other changes were made but it still failed to attract buyers. In 1917, following bankruptcy reorganization, the company changed it's name to Militor and tried again to sell to the U.S. Army. Although they placed a small order, Indian and Harley motorcycles were quickly becoming the motorcycle of choice among the military.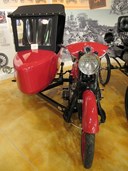 In 1922, after many attempts to make a viable product, the company went out of business. In it's twelve years of operation probably no more than 100 total vehicles were ever completed.
DCI Solution performed a Certified Appraisal for this 1919 Militor Motorcycle, for a charitable donation to the Springfield Museum.