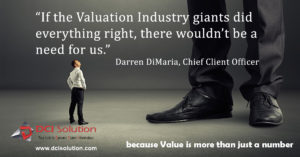 I was listening to a TED talk today and the topic was "The unheard story of David and Goliath". It was a unique perspective on this timeless tale of the "little guy" defeating the giant. Yes, it spoke of the strong Faith factor but it also talked about the skills and expertise of the Slinger and how David used those to conquer his opponent.
I have heard comments from prospects and prospect-turned-clients regarding "How does DCI Solution, the little guy, compete against the giants in the industry. What can DCI offer that they don't and can you handle our business?"
The story of David and Goliath is certainly much larger in life than ours but does involve many of the same principles. Also, we are not out to defeat or conquer the giant. The story demonstrates that we can and do compete with the giants by offering the skills and expertise of the Slinger. To focus on the weakness of your opponent and capitalize on that by making it your strength. We might be small in comparison but we excel at what we do. It certainly demonstrated how important accuracy is too, which coincidentally is critical in the valuations industry and an even greater challenge in the specialty vehicle segment.
Being the "little guy" offers distinct advantages:
Focus – we are not trying to be all things for all people. Our forte' is specialty valuations for the specialty vehicle market.
Personalized Service – it's all about responding to your needs. You can talk directly to the Valuator who performed the market valuation. We can have a conversation with you and the insured. And you can give us suggestions on how to improve the service that we provide to you. We are here for you.
Decisiveness – With DCI, there's no red tape or multiple management levels or numerous paths to get an answer. We find the solution for you and we take action quickly.
Our focus is specialty vehicles, specialty valuations, and special service to our Clients. We have combined automation with a personalized hands-on approach to the valuation process. Our proprietary Valu-Rite System® and staff of Certified Valuators can handle any assignment. Our mission is to provide accurate valuations, in a timely manner, and to be there for the Client.
"That's how DCI Solution competes against the giants…because Value is more than just a number™."
Darren DiMaria – Co-Founder, Chief Client Officer, Valuation Genius