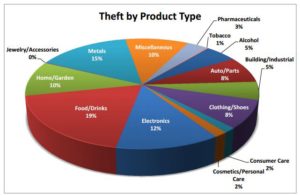 Cargo theft recording firm Sensitech, formerly known as FreightWatch International, is warning the trucking industry about the likelihood of increased cargo theft activity during the upcoming Memorial Day holiday weekend.
The firm says cargo theft rings will be "extremely active" over the next few days with more shipments being left unattended for extended periods of time. Sensitech says it has recorded theft levels up to 50 percent higher during holiday weekends than non-holiday weekends.
In the 2015 and 2016 Memorial Day weekends, the group recorded a total of 26 cargo theft incidents worth more than $4.8 million.
CargoNet: First quarter cargo thefts totaled $28.7M in losses
Of the 192 cargo thefts recorded in the quarter, 51 of them were in California, leading all states. Behind California was Ontario, Canada, displacing Texas …
To combat against cargo theft, SensiGuard recommends drivers and fleets confirm receivers' hours for the holiday weekend to make sure they match up with the scheduled delivery times. For high-value shipments, the firm recommends GPS tracking and active monitoring.
Some significant cargo thefts recorded in recent Memorial Day weekends include:
Fictitious pickup of personal care items worth $100,000 in California in 2016
Full truckload theft of spirits worth $100,000 in Mississippi in 2016
Full truckload theft of notebook computers worth $400,000 in California in 2015
Full truckload theft of perfume worth $2.5 million in New Jersey in 2015
Full truckload theft of televisions worth $800,000 in Florida in 2014