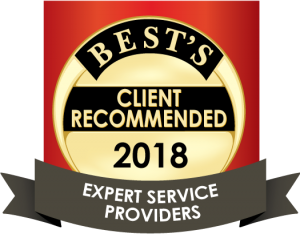 DCI Solution is pleased to announce that it has once again achieved A.M. Best's designation as "Recommended Expert Service Provider" for the fourth year in a row. A.M. Best, a leading ratings company in the insurance industry, researches current clientele prior to awarding this designation.
Click HERE to view DCI Solution's video profile.
Click HERE to view DCI Solution's profile on A.M. Best's website.
About A.M. Best
A.M. Best was founded in 1899 by Alfred M. Best with the mission to report on the financial stability of insurers and the insurance industry. It is the oldest and most widely recognized provider of ratings, financial data and news with an exclusive insurance industry focus.
Ratings are issued on approximately 3,400 companies in more than 80 countries worldwide. Best's Credit Ratings are recognized as a benchmark for assessing a rated organization's financial strength as well as the credit quality of its obligations.
A.M. Best produces dozens of products and services containing Best's Credit Ratings and related analysis. We cover 16,000 insurance companies globally through a wide range of analytical resources, references, directories and periodicals that provide insurance professionals and consumers with the critical information they need to make informed business decisions.
A.M. Best has offices in the U.S., London, Hong Kong, Dubai, Mexico City and Singapore. View the company's history to learn more about its role in the global insurance industry.